Factory / Warehouse - TP05F0011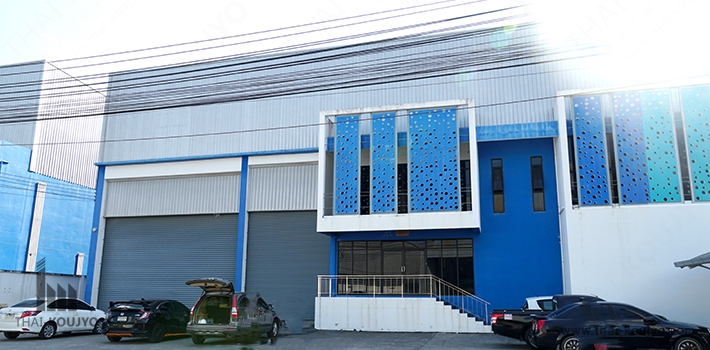 Property - Overview
Total Building Area

1,666 ㎡

Factory / Warehouse Area : 1,152 ㎡
Office Area : 352 ㎡
Other Area : 162 ㎡
Building Type : Semi-Detach

Land Area

1.3175 Rai

(2,108 ㎡)

Rental

280,000 Baht / Month

(Approx. 8,120 USD / Month)

Price per ㎡ : 168 Baht / ㎡ / Month
(Approx. 5 USD / ㎡ / Month)

• May have monthly expenses more than just monthly rent. See information below or ask before make any decision.

Price

46,000,000 Baht

(Approx. 1,334,000 USD)

Available Date

Available Now
• 1Baht = About 0.029 USD, 1USD = About 34.15 Baht (Refer to Bangkok Bank currency transfer rate on 4 Jan 2023)
• More information about additional cost and condition, please see below.
• Information, price and condition of this property provided and also reserved the rights to change without notice by the property owner. Thai-Koujyo.com can't guarantee any change of that. Buyer or lessor have to confirm the final information, price and condition with the property owner before making any contract.
This property already got

1300

views
Last Update
||
27 Jan 2023
TWIN properties. (1 property with a threshold in the middle and 2 units).
This property can be bought or rented.
It is on stilts and has a dock leveller, so it could be used as a warehouse or manufacturing plant. The adjoining land is currently leased by another company, so if the occupying company wishes to carry out manufacturing, prior confirmation must be obtained regarding vibration and noise from manufacturing machinery etc. Please inquire. It is not possible to rent (buy) the entire building as it is currently occupied by a tenant, but it is possible if a vacancy occurs.
The industrial estate in question has strict effluent standards, so please check before moving in.
City Zoning
Purple (Industrial and Warehouse)
Minimum Contract Period
3 Year(s)
Contract Deposit
3 Month(s)
Advance Payment
1 Month(s)

Floor Loading
Max. Loading : 3 Ton(s) / sq.m.

Clearing Height
Min. Height : 8 m., Max. Height : 11 m.

Electricity
Only electric system and lighting for basic usage. Don't have electric system, transformer, MDB for industrial usage. Require installation if needed.
50 (150) Amps, 3 Phase, 4 Wires

Interior Decoration
Don't have. (Require construction)
Telephone System
Don't have wiring, PBX, telephone. Require installation if needed.

Internet System
Don't have. Require contract ISP (internet service provider) and installation if needed.

Air Condition System
Factory : Second-hand Available (May require installation)
• Not allow to copy and/or use any information, pictures, videos, maps within this website for your business purpose without granted permission from us. Otherwise, we will take legal proceedings.