Factory / Warehouse - RJA1F0023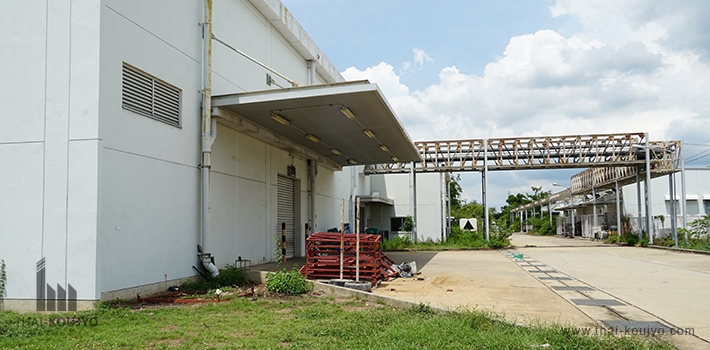 Property - Overview
Total Building Area

6,969 ㎡

Approximate size.

Factory / Warehouse Area : 6,680 ㎡
Office Area : 200 ㎡
Other Area : 269 ㎡
Building Dimension : 69X101 m.
Building Type : Detach

Land Area

30 Rai

(48,000 ㎡)

Approximate size.

Rental

1,184,730 Baht / Month

(Approx. 34,357 USD / Month)

Approximate rental rate.

Price per ㎡ : 170 Baht / ㎡ / Month
(Approx. 5 USD / ㎡ / Month)

• May have monthly expenses more than just monthly rent. See information below or ask before make any decision.

not Include machinary and equipment

Available Date

Available Now

** move out within 1 month after ownership transfer.
• 1Baht = About 0.029 USD, 1USD = About 34.15 Baht (Refer to Bangkok Bank currency transfer rate on 4 Jan 2023)
• More information about additional cost and condition, please see below.
• Information, price and condition of this property provided and also reserved the rights to change without notice by the property owner. Thai-Koujyo.com can't guarantee any change of that. Buyer or lessor have to confirm the final information, price and condition with the property owner before making any contract.
This property already got

1297

views
Last Update
||
24 Jan 2023
Second hand factory with cheap land in an industrial estate near Bangkok, near the main road of the industrial estate, easy access, suitable for plastic industry, automotive parts Can buy a factory with machinery (Factory price + land + machinery 523,000,000 baht)
** If wanting the empty production section The owner takes about 1 month to move the machine. And other devices After transferring ownership
City Zoning
Purple (Industrial and Warehouse)
Land
General Zone : 1,200 Baht / Rai / Month

Floor Loading
Max. Loading : 3 Ton(s) / sq.m.
Pianting room 1 Ton(s) / sq.m.

Clearing Height
Min. Height : 6 m., Max. Height : 8 m.

Electricity
Second-hand Available (May require installation)

Water Supply
Second-hand Available (May require installation)

Air Condition System
Factory : Second-hand Available (May require installation)
Office : Second-hand Available (May require installation)

Security
● Guard House
● CCTV
● Fingerprint Scanner

Fire Protection
● Fire Extinguisher / Fire Hose
● Fire Sprinkler
● Fire Alarm
● Smoke Detector

Parking
● Fix 17 car(s) inside land of factory

Transformer
Have

Crane
Have

Shutter Door
● Auto

Canteen
● Own Canteen
• Not allow to copy and/or use any information, pictures, videos, maps within this website for your business purpose without granted permission from us. Otherwise, we will take legal proceedings.