Warehouse Only - PNT2W0004
Pinthong 2 Industrial Estate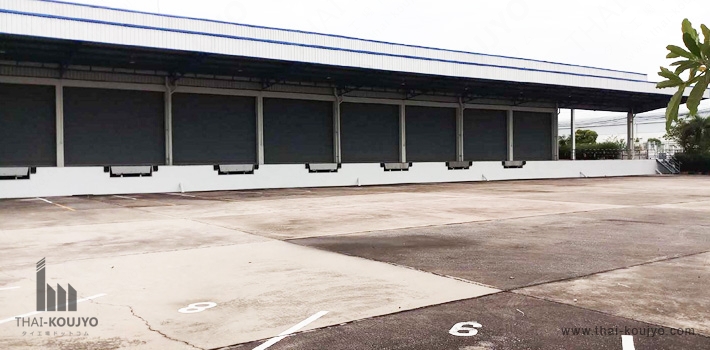 Property - Overview
Total Building Area

5,056 ㎡

Warehouse Area : 4,032 ㎡
Office Area : 288 ㎡
Other Area : 736 ㎡
Building Dimension : 48X108 m.
Building Type : Semi-Detach

Land Area

6.444875 Rai

(10,311.8 ㎡)

Rental

910,080 Baht / Month

(Approx. 26,392 USD / Month)

Price per ㎡ : 180 Baht / ㎡ / Month
(Approx. 5 USD / ㎡ / Month)

• May have monthly expenses more than just monthly rent. See information below or ask before make any decision.

Available Date

Available Now
• 1Baht = About 0.029 USD, 1USD = About 34.15 Baht (Refer to Bangkok Bank currency transfer rate on 4 Jan 2023)
• More information about additional cost and condition, please see below.
• Information, price and condition of this property provided and also reserved the rights to change without notice by the property owner. Thai-Koujyo.com can't guarantee any change of that. Buyer or lessor have to confirm the final information, price and condition with the property owner before making any contract.
This property already got

1299

views
Last Update
||
19 Jan 2023
2 units combined large warehouse for rent in an industrial estate. Investors are highly interested.
Factory / Warehouse
General Zone : Included in Rental Fee
Land
General Zone : 1,100 Baht / Rai / Month
Tax & Fee
Property Tax (12.5% / Year) : Excluded (Tenant Pay)
Withholding Tax (5% / Month) : Excluded (Tenant Pay)
• In case of rent, tenant have to pay property tax 12.5% per year beside the common rental fee.
Minimum Contract Period
3 Year(s)
Contract Deposit
3 Month(s)
Advance Payment
1 Month(s)
Interior Condition
Free Interior Period : 30 Day(s)
Interior Deposit : Need
Payment Condition
Deposit : 3 Months deposit and 1 month advance shall be paid to pinthong upon the date of signing the lease contract.

Floor Loading
Max. Loading : 3 Ton(s) / sq.m.
Floor : Reinforced concrete 15 cm. thickness.

Clearing Height
Min. Height : 7 m., Max. Height : 10 m.
Metal sheet roofing with insulation.

Electricity
Only electric system and lighting for basic usage. Don't have electric system, transformer, MDB for industrial usage. Require installation if needed.
Emergency Lighting

Water Supply
Only water supply for basic usage. Don't have water system for factory equipments. Require plumbing work and pump installation if needed.

Interior Decoration
Don't have. (Require construction)
Telephone System
Don't have wiring, PBX, telephone. Require installation if needed.

Internet System
Don't have. Require contract ISP (internet service provider) and installation if needed.

Air Condition System
Factory : Don't have. (Self install, if need)
Office : Don't have. (Self install, if need)

Security
● Shared Security (Security Gate)

Fire Protection
● Fire Extinguisher / Fire Hose
● Fire Alarm
● Smoke Detector
Fire Exit Door

Parking
● Space for about 23 car(s) inside land of factory

Shutter Door
● Manual
● Auto

Canteen
● Own Canteen

Lightning Protection
Provided
• Not allow to copy and/or use any information, pictures, videos, maps within this website for your business purpose without granted permission from us. Otherwise, we will take legal proceedings.