Apex Green Industrial Estate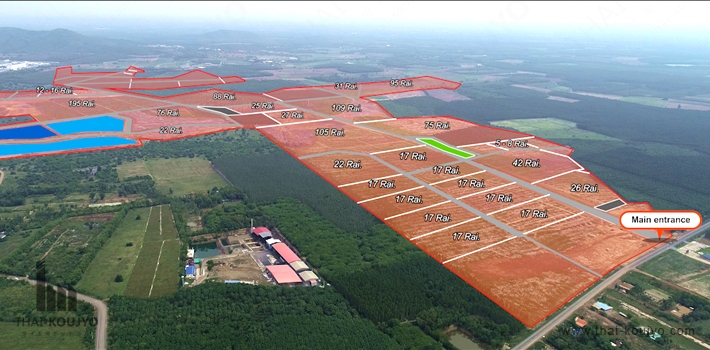 | | |
| --- | --- |
| Industrial Estate - Overview | |
Apex Green Industrial Estate Project has a total project area of approximately 2,191.496 rai, which is a zone for industrial plants and for warehouses in particular. that are ready to serve industrial plants can operate business with ease and speed There are complete utilities. It is also friendly to the environment surrounding the industrial plant. There is a plan to prevent and reduce the impact on the community and the environment.
Last Update
||
7 Mar 2023
City Zoning
Purple (Industrial and Warehouse)
From Bangkok (Asok)
Distance : 106 km.
From Suvarnabhumi Airport
Distance : 86 km.
From Laem Chabang Port
Distance : 98 km.
From Map Ta Phut Port
Distance : 120 km.
Land Size Available
6 - 195 Rai
• 1 Rai = 1,600 sq.m. (Rai is a type of Thailand's land measurement unit.)
IEAT I.E.
Partnership of IEAT
• IEAT (Industrial Estate Authority of Thailand) is a state enterprise under control of the Ministry of Industry of Thailand. The responsibilities of the authority are to create and organize industrial estates, grouping together industrial facilities in a synergistic manner.
• 1Baht = About 0.028 USD, 1USD = About 35.34 Baht (Refer to Bangkok Bank currency transfer rate on 17 Aug 2023)
Land
General Zone : 1,000 Baht / Rai / Month

Electricity
● From PEA
Have power sub station

Water Supply
● Own Water Supply
- Reservoir capacity : 1.6 Million m3
- Standard Supply Capacity : 1500 m3/rai/day

Gas Supply
Have
Provided by PTT

Waste Water Treatment
Have

Common Area Security
● Guard House

Hospital
[On 331 RD.] 15 min. drive
- Plaeng Yao Hospital

[In Gateway I.E.] 15 min. drive
- Churarat Clinic 12

Gas Station
[On road No.331] 12-15 min. drive
- PTT Station
- Shell Station
- Caltex Station

Restaurant
[Front of Gateway I.E. entrance] 12 min. drive
- Ajikatsu Japanese Restaurant

[In Gateway I.E.] 15 min. drive
- V Meet Restaurant & Bar

[In PTT on 331 RD.] 15 min. drive
- Cafe Amezon

[In Shell station on 331 RD.] 12 min. drive
- Select Cafe

Convenience Store
[In PTT on 331 RD.] 15 min. drive
- 7 Eleven

[Front of Gateway I.E. entrance] 12 min. drive
- 7 Eleven

[on 331 RD.] 10 min. drive
- Lotus Express
- Mini BigC
Map / Master Plan / Others
• Not allow to copy and/or use any information, pictures, videos, maps within this website for your business purpose without granted permission from us. Otherwise, we will take legal proceedings.