Amata City, Chonburi Industrial Estate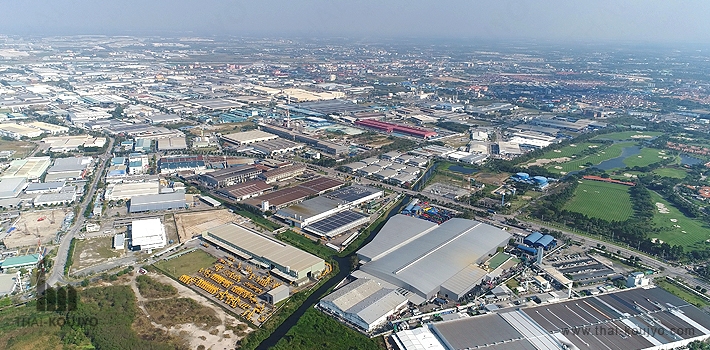 | | |
| --- | --- |
| Industrial Estate - Overview | |
It can be called the largest industrial estate in Thailand. Amata City Chonburi's area cover about 25,000 Rai (40 million sq.m.), fully functioned suite for industrial. Convenient transport, just about 1 hour from Bangkok by drive on Bangna-Trad Rd. or Motorway. Many Japanese and international industrial company settled down here. Refer to 2014's information, there are more than 600 companies located here, 66% are Japanese and related, 16% are Thai.
Amata City Chonburi is private I.E. cooperate with IEAT (Industrial Estate Authority of Thailand), so there is IEAT office located here inside Amata's sale office building, to sereve as one-stop service for any tasks related to IEAT. For those who looking for new opportunities, this I.E. have adventage of location. It's not far from business strategic points such as Bangkok (capital city), Samutprakarn (area of logistics and warehouse), Laem Chabang Port (major deep sea port), the group of eastern seaboard I.E. (which is one of major automotive manufacturing base in Thailand). Furthermore, there're many facilities inside and around this I.E. such as Banks, Hospitals, Shopping Centers, Restaurants, Gas Stations, Auto Services and also Golf Course.
Not just the land for sale, there're rental factory developed by Amata Summit and Frasers Property (Ticon). There're also have mini-factory for rent in the sub-area called OTA Techno Park.
** On January 2018, this I.E. was rename name from "Amata Nakorn" to "Amata City Chonburi".
Major Customer
Denso (automotive parts), Bridgestone (tires), Daikin (commercial air conditioners), Asahi Glass (automotive glass), SONY (audio), Siam Toyota (automotive engine), Mitsubishi Electric (electric equipment), Kao, Siam Kubota Tractor, Calsonic Kansei (automotive parts), Bangkok Komatsu, Apollo (Idemitsu), Hino Motors (automotive), Jatco (transmission), Mitsubishi Heavy Industries, NIPPON Paint, Siam Hitachi, Lotte, Toyoda Gosei (automotive parts), CBC (3D molding, mold), Seishin (aluminum parts), World Kogyo (shutter), Siam Kito (crane, hoist), Thai Silvec (plating, hard alumite), E&H (metal precision cutting) , Kanuc YMP (gas nitriding treatment), Shimohira Electric (wire harness), Siam NDK (precision cutting), etc.

Last Update

||

18 Oct 2022

City Zoning

Purple (Industrial and Warehouse)

From Bangkok (Asok)

Distance : 57 km.

From Suvarnabhumi Airport

Distance : 42 km.

From Laem Chabang Port

Distance : 46 km.

From Map Ta Phut Port

Distance : 96 km.

Chonburi City Center

Distance : 5 km.

IEAT I.E.

Partnership of IEAT

Have IEAT Office

• IEAT (Industrial Estate Authority of Thailand) is a state enterprise under control of the Ministry of Industry of Thailand. The responsibilities of the authority are to create and organize industrial estates, grouping together industrial facilities in a synergistic manner.

Free Zone

Have Free Zone

• Free Zone (aka. Free Trade Zone) is a class of special economic zone. It is a geographic area where goods may be landed, stored, handled, manufactured or reconfigured and re-exported under specific customs regulation and generally not subject to customs duty. Any conditions is up to Thai Customs.

• 1Baht = About 0.029 USD, 1USD = About 34.15 Baht (Refer to Bangkok Bank currency transfer rate on 4 Jan 2023)

Factory / Warehouse

General Zone : 1,200 Baht / Rai / Month
Free Zone : 1,400 Baht / Rai / Month

Land

General Zone : 1,200 Baht / Rai / Month
Free Zone : 1,400 Baht / Rai / Month

Electricity
● From PEA
22KV supply line from PEA (Provincial Electricity Authority)

Standard Quota : 30KVA / Rai

Over-quota Charge : If have to use more than standard quota, will be charge 1,500 Baht for additional 1 KVA

Water Supply
Have

Gas Supply
Have
Supplied by Amata Natural Gas Distribution Co., Ltd.
* Available in some area. Usage quantity and location, please consult.

Waste Water Treatment
Have
Total waste water treatment capacity is 15,000 cu.m. / month.
(Have activated sludge type of treatment plant)

The drainage capacity of each company is 80% of water supply.

Telephone
Have
Brand : TOT
Provided by TOT (Telephone Organization of Thailand).
Price rate is depend on provider.
Standard Quota : 3 Lines / 10 Rai (Charge 30,000 Baht / 1 additional line, if required to use over-quota)
• Installation fee means cost collected by industrial estate owner. The initial setup fee for service provider is required separately.
• Brand means available service provider brand that already have connection point in this industrial estate. There're may have another brands, please check that service provider's coverage area.
• TOT=Thailand telecommunication state enterprise, True=Thailand biggest telecommunication private company.

Common Area Security
Have

Common Area Fire Protection
● Fire Hydrant
Fire hydrants installed every 250 m. along the road.

Other Infrastructure
One-stop Service Center : There is IEAT office located inside Amata City Chonburi Sale Office building.
Bank
[ Opposite Amata's Sale Office ]
● Siam Commercial Bank
● Bangkok Bank
● Kasikorn Bank
● CIMB Bank
● Government Housing Bank

[ Inside Plus Mall ]
● Siam Commercial Bank
● Bangkok Bank
● Kasikorn Bank
● Krungsri Bank
● Krungthai Bank

Hospital
● Vibharam (Amata Branch) Hosptial
Located at the entrance gate on Bangna-Trad Rd., opposite to Amata's sale office.

Gas Station
[ Gas Station ]
● PT : at entrance on Bangna-Trad Rd.
● PURE : at phase 4 entrance

[ Auto Service ]
● COCKPIT : at entrance of Plus Mall

Restaurant
[ General / Fast Food ]
● KFC : at PURE gas station / inside Plus Mall
● McDonald's : at entrance on Bangna-Trad Rd. / inside Plus Mall

[ International ]
● Diciotto Italian Restaurant : at Amata Spring Golf Course's Club house
● El Nino International Restaurant : at Amata Spring Golf Course's Club house

[ Japanese ]
● Nippon-tei : inside Japanese's apartment next to golf course
● Yayoi : inside Plus Mall
● Fuji Restaurant : inside Plus Mall
● Ikkyu-tei
● Ramen Kaminari

Convenience Store
● 7-11 : at entrance on Bangna-Trad Rd. / near temple in phase 4 and many other branches in I.E.
● Family Mart : at Esso gas station

Shopping Center
● Plus Mall (Lotus)
Large shopping center around this area. There are many and variety type of shop such as supermarket, variety restaurants, clothes and shoes, cosmetics, book stores, general merchandises, banks and cinemas.

Other Facilities
● TGI (Thai - German Institute)
● TOT Customer Service Center (Telephone Organization of Thailand)
Map / Master Plan / Others
• Not allow to copy and/or use any information, pictures, videos, maps within this website for your business purpose without granted permission from us. Otherwise, we will take legal proceedings.